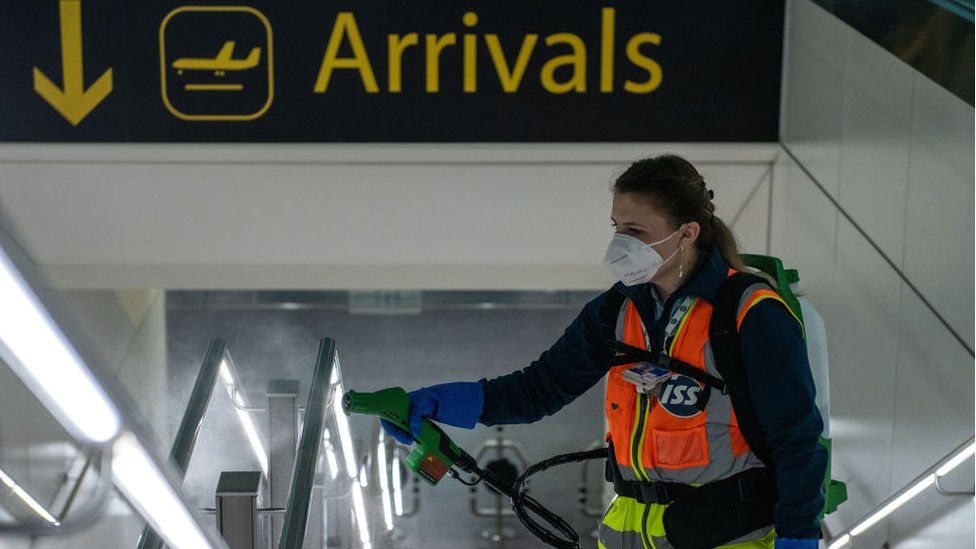 The 54-year-old graphic designer was made redundant by an airport parking company in August as bosses tried to cut their wage bill during an unprecedented and sustained fall in air travel.
She is not alone.
From cabin crew to cleaners and baristas to baggage handlers, more than 6,000 people once made the short commute from her hometown of Crawley to Gatwick Airport. Many more are employed by local businesses, like airline caterers and B&Bs, which rely on the airport and its customers.
So, when coronavirus restrictions led to a precipitous drop in passenger numbers, work soon dried up.
In August it was revealed that 25,800 people in Crawley were on furlough - at 41% it is among the highest proportion of workers in any part of the country. Others have already lost their jobs, and unions fear more redundancies will follow.
"It's terrible out there," Ms Crunden said. "The real people are suffering. Where I live so many of us have all been ditched. I know pilots and all sorts who are driving for Sainsbury's now."
In total, more than 23,000 people worked at Gatwick, where several thousand jobs have already been cut or are earmarked for redundancy this year. But by some estimates the airport directly or indirectly supports a further 60,000 jobs - and it is unknown how many of those will be lost.
Follow the news anytime, anywhere ::
slotxo